Communication Panel
The following changes and improvements have been made in Communication Panel.
Not-Ready Status After Timeout
You can now configure how many consecutive offering attempts without a response from an agent are allowed before the status is changed to Not ready with the following System Configurator settings:
.
Timers for status, presence, and conversations
Timers can now be added to Communication Panel to show the user how long:
they have had their status set as Not Ready

they have held a presence profile of the Absence type

an active conversation has lasted

The conversation timer and an exclamation point icon in the Conversations list change color based on how much of the defined handling time limit has passed.
Read more about timers in the Communication Panel document.
Note:
The timers are only shown in Communication Panel, their values are not available in monitoring or reporting.
Administrators can define timers in System Configurator.
Automatic Chat Reply Template
Communication Panel utilizes the System Configurator queue level setting of Default Reply Template as an initial response for chat messages. Accepting an offered queue-based chat will automatically insert the defined template into the chat input box. Editing before sending the response is also possible.

The default template also applies when agents creates an outgoing SMS or WhatsApp message when the FROM dropdown is selected. For incoming queue chats you can also define if the reply template is also automatically sent when the conversation is accepted. Agents can also enable and disable this feature in Communication Panel if you haven't denied user-level modifications in System Configurator.
Extension Area Icon Updates
Orange notification dots have been added to extension area icons:
Conversation Details icon shows if attached data has been updated during an active conversation
Internal Notes icon shows if notes have been saved
Attachments icon shows if an email includes attachments
Dial Pad Moved to a Menu
The dial pad has been moved to the menu that opens from the + icon: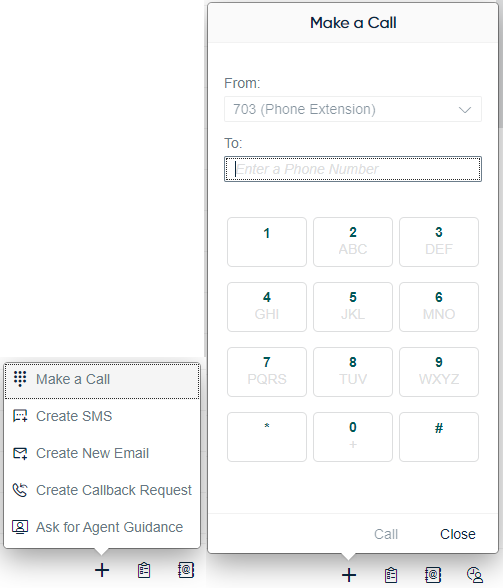 Agents can now also select the calling number shown to the recipient.